FELTING
Every year we watch our local farmers burn their herdwick fleeces because they are worth nothing, so when I watched a demonstration of felting at the'Woolfest' festival in Cockermouth. I thought that we could do felting at Low Gillerthwaite offering courses and using local wool it was obvious. Solved the wool economy in Cumbria!!?

So off we went to 'ARTYBIRD'. This is me working next to 'teach'. Solve the wool problem ? Not So simple. Herdwick wool does not felt very well nor does it take colour very well. Hence old J P's coat of grey and the reason they used to turn most of it into carpets. Perhaps she told me this because she sells Norweigian Wool?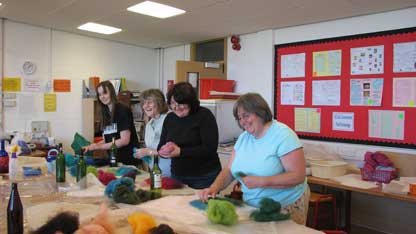 These are some of my colourful classmates note the wine, it's obligitory, the last thing you make at the end of the week is a wine bottle cosy. Its so your wine doesn't go cold in those draughty farmhouse bedrooms. They need to be empty ( im not sure why) but it does mean you get to drink a bottle of wine each the night before. or, you can bring an empty on with you.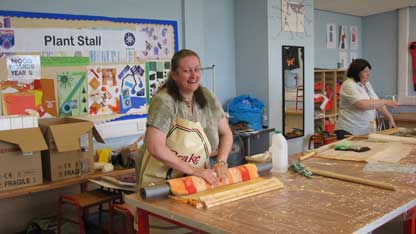 People come from all over the country Patricia is from the Western Highlands and is taking her skills back to Lochinver for the people of Assynt. This is a City and Guilds course so not only do you learn a really interesting skill you can gain qualifications as well. Felting is recognised aerobic fitness so you can get fit at the same time.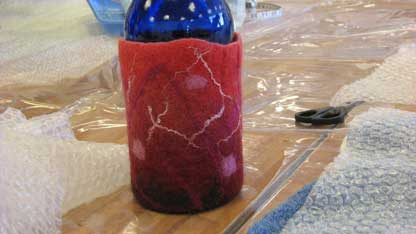 Here we are, a wine warmer. Imagine laying bed on a cold windy night no need to worry about the wine getting chilled, or alternatively pop it in to the freezer for an hour then slip it round your favourite white wine for a warm summers evening. We were lucky enough to see some amazing work that had been done by level 2 and 3 City and Guilds student which had been brought in for assessment.
When I thought felt, I thought Hats, Wellie liners and Yurts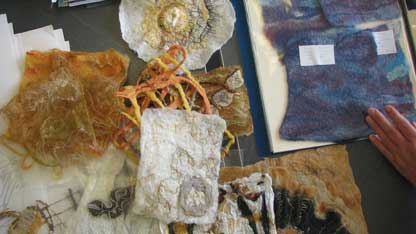 Thats not the half of it, I saw some amazingly fine soft pieces incorporating silks and linens they were beautiful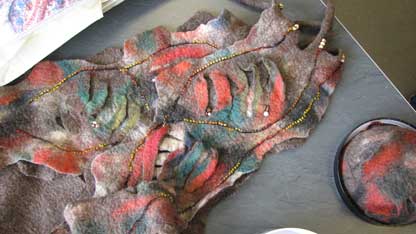 This is a waistcoat and hat. Some of the wall hangings and rugs were fantastic.
We hope to run some taster sessions during the winter.