PROSPECTOR 16'
Originally designed by the Chestnut Canoe Co. in 1910, the Prospector has to be the greatest wilderness tripping canoe of all time. We have been faithful to the original design. The Prospector has good sharp entry lines for speed but the ends flare out quickly to float the bow over waves. The canoe is stable, but sensitive to leans for carving turns whether paddling tandem or solo. The moderate rocker in the keel line allows quick pivoting and sideslipping in rapids. There is no better canoe for lakes, rivers, whitewater rapids, and wilderness trips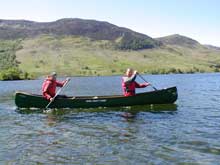 Reinforced PVC vinyl gunwales with oversized rotomolded decks are standard with our Royalex and SP3 (Poly) Prospector models. Nylon laced ash seats, ash thwart, carrying handles and a balanced carrying yoke complete the package.
PROSPECTOR SP3 15'6''
Our new SP3 canoe is a combination of the toughest Superlinear polyethylene available and an expanded foam core. The exterior Skin provides incredible impact and abrasion resistance while the foam core provides exceptional stiffness without adding as much weight as a single layer canoe. The foam core also has the added bonus of making the hull naturally buoyant and providing insulation from cold and noise. One tough package that's now available in our classic Prospector shape at an affordable price. .................................