Low Gillerthwaite News and Views
Nov 2008
November started sunny which was perfect for those doing their Mountain Leader Training. Here seen practicing their rope work on the 'steep ground' day.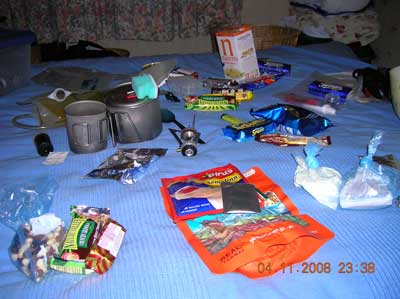 Prepping for expedition. get the food right!!!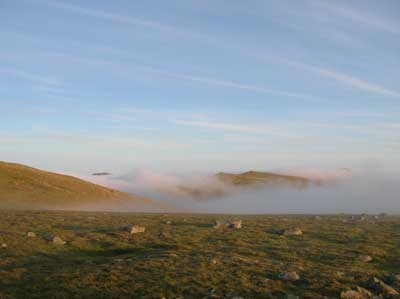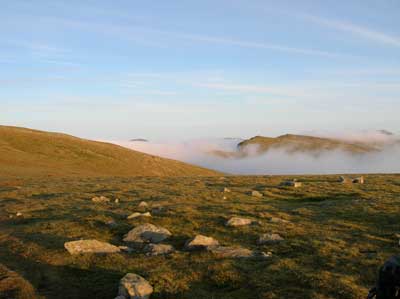 Above the clouds on Scoat fell with Gable and Scafell peeping in the distance and Red Pike in the middle distance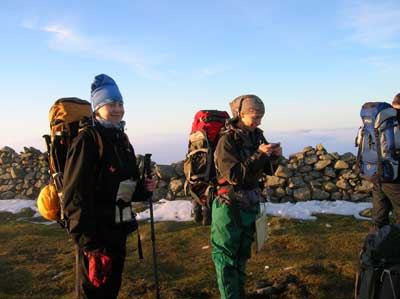 Enjoying the moment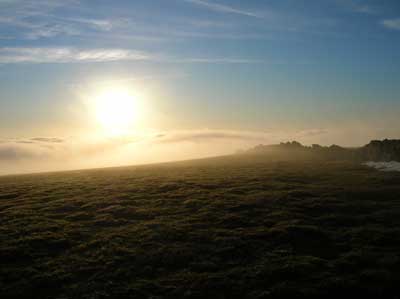 Time to head for camp as the sun begins to set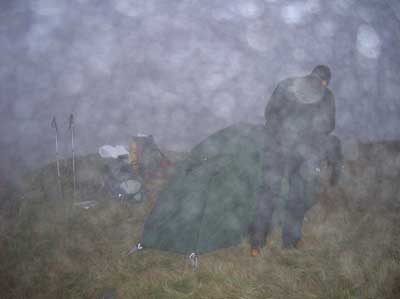 It was worth watching the sunset.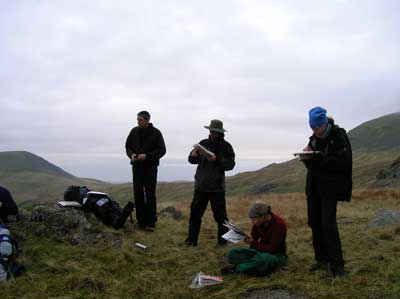 Navigation Navigation Navigation! ' are you sure we walked through here last night on night nav.'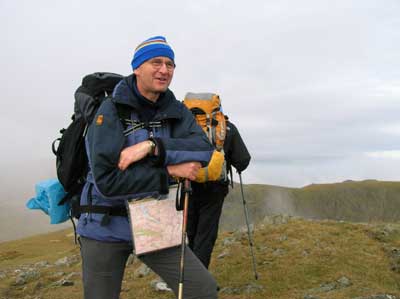 Enjoying the view ? or yearning for the Wasdale Head Inn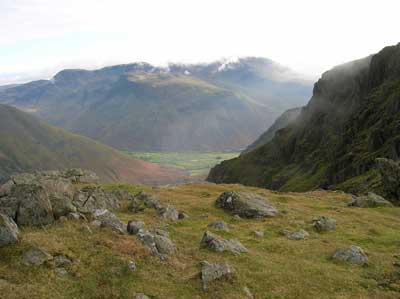 Wasdale Head with Scafell Massif in background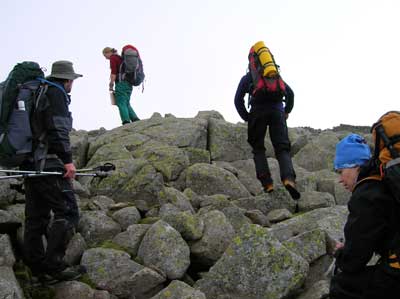 Route choice is a funny old thing, negotiating the boulder field onto Scoat Fell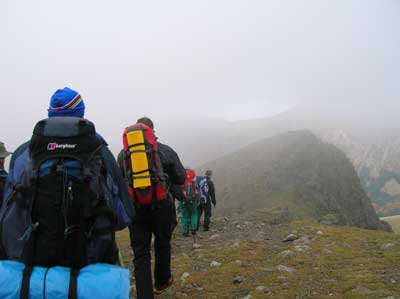 Low cloud on Steeple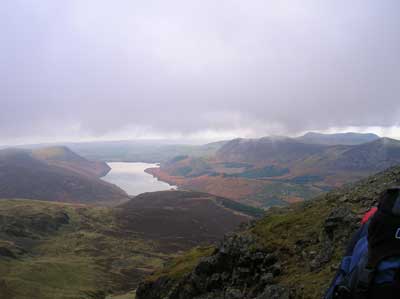 Homeward bound for Ennerdale and Low Gillerthwaite.
Towards the end of November fish begin to move into the beck's to spawn, Salmon and Sea Trout having come from the sea and the Brown Trout and Arctic Char moving up from the lake. Here we see fyke nets being used by the Environment Agency to monitor fish stocks. These are emptied every day and fish are weighed and measured some are stripped of their eggs and milt, fertilized and put back into the stream in special artificial redds (fish nests) to assess hatching numbers. For a number of years Arctic Char eggs have been collected, fertilized and hatched in a hatchery and return to their 'home' beck's as fry. This is in an effort to improve char numbers in Ennerdale.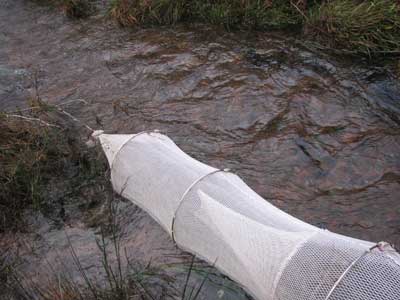 Fish swim up through the funnel sections and are unable to escape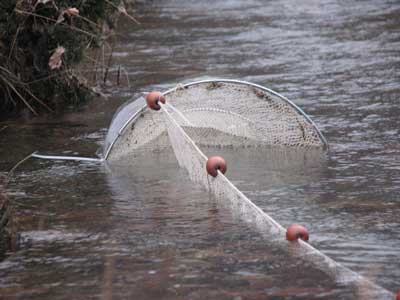 A long single length of net guides the fish towards the trap. This means only a percentage of the fish 'running' the beck to spawn are caught .
November sunshine can mean a superb opportunity for photographing fungi and lichens in the forest.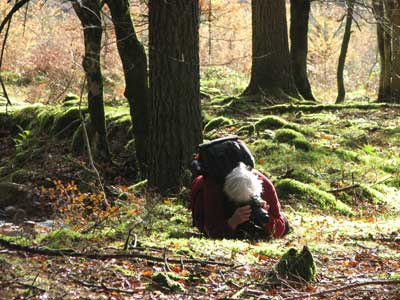 Here Hester gets up close.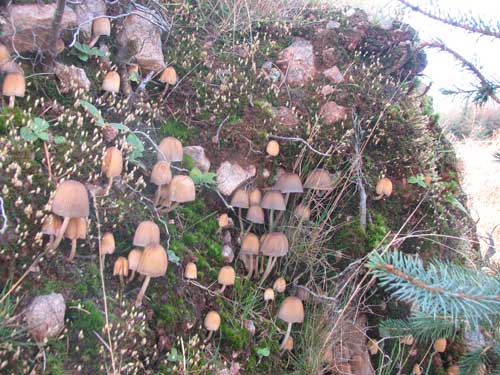 Carol caught this group on the upturned root plate of a windblown spruce tree.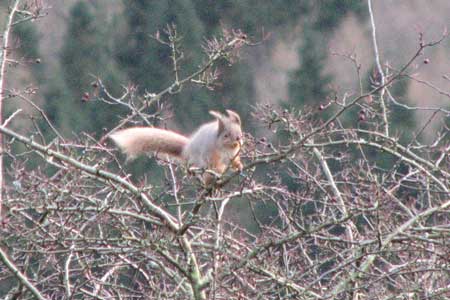 We have been graced with a number of visits from this red squirrel, the first we have seen around the 'centre' for a number of years. Hanging on in the strong winds it has visited most of the hawthorn bushes busily stripping the berries for winter.
The end of the month brought a dusting of snow and freezing conditions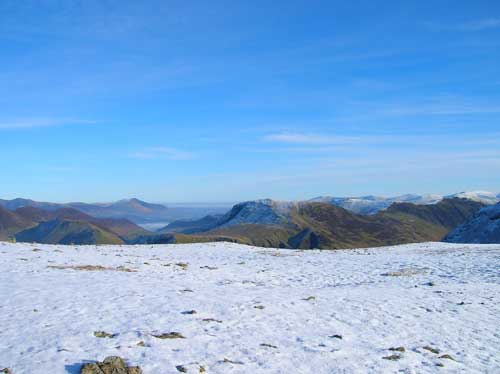 The view from Red Pike north east with Blencathra and the eastern fells in the distance show the south facing flanks clear of snow.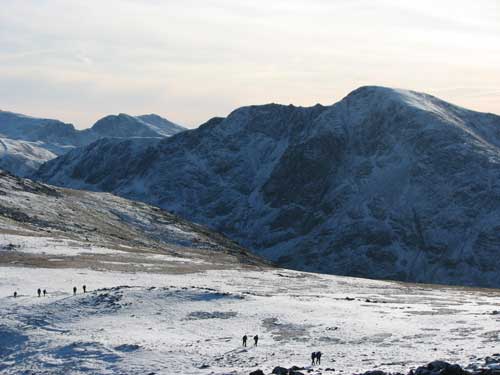 Yet the north face of Pillar on the same day shows a more wintery chill, with Scafell in the background.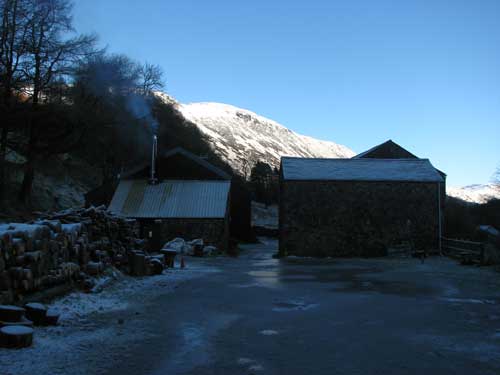 Temperatures of minus 7 mixed with rain and snow turned the car park and yard into an ice rink.